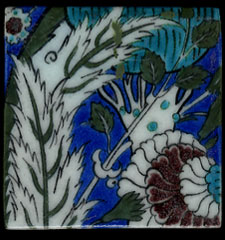 Turkey is famous for its tiles and beautiful examples can be seen everywhere you look in Istanbul. An interesting use of tile in some of the more modern hotels and homes is to make a frame border the full height of the wall out of 2"x3" tiles applied directly to the wall in a series of tall rectangles or around a window or door in place of wood trim. This idea could be copied in any type of tile.
Turkish tile patterns are incredibly bright - a mix of blues, reds, and greens which might not fit into just any home - but should any take your fancy, there are many beautiful traditional mosaic patterns which can be purchased in Turkey or via the internet. The patterns remind me of some of the wallpaper prints which have become so popular in kitchen decor recently. I can easily imagine an all white kitchen with a backsplash of Turkish tile or a mosaic featured over the stove as the only splash of color.
I'm not able to upload my own photos until I get back home, so I had to swipe this from Google images. It is a copy of an authentic Turkish tile.